Butterflies & Moths
First, a brief look at seasons………..
Given the relatively limited number of species in the area the task of identification is, in principle, fairly straightforward, and the different types of butterfly life cycle also give a clue as to when and where to expect what. Some species over-winter as hibernating adults and can appear rapidly when conditions start improving with Spring; others spend the winter as pupae, and need only emerge as adults when winter ends. A third group over-winter as caterpillars and must pupate before emerging as adults. This tends to be reflected in the time when flying adults are seen, with the adult hibernators appearing first, followed by "pupae species" and then the "caterpillars species". There is a slight complication in that a few species come to the UK as adult migrants, and can pop up any time when conditions are suitable in spring or summer. So, bear in mind that the description here is only a rough guide, and there is much variation between years and between sites.
Red Admiral Common Blue Green Fritilliary
And now………a look at sites
Where you look for butterflies or moths, to some extent depends on what you hope to see. If you are happy just to identify whatever comes your way as you walk, then in favourable conditions the adults of some species can be found wherever there are good numbers of flowers. If, on the other hand, you are keen to track down some of the less common species, then you may need to be more selective in the habitats you chose to explore. Red Admirals and Small Tortoiseshells, for example, lay their eggs on nettles, and this is where the caterpillars may be found. It should be borne in mind that butterflies, like us, prefer to be out and about on bright sunny days with low wind speeds - and moths? They do NOT all only come out at night, and you can see plenty of them flying around during the day as well.
Burnet Moth
.....and when can you see them?
MARCH
If before April, then it's almost certainly a Red Admiral - Peacock, or - Small Tortoiseshell. Of the three, Red Admiral and Small Tortoiseshell are common, and the Peacock is rare – but on the increase in the NW Highlands.
Peacock Butterfly
APRIL
The "white" butterflies should appear during this month. This means the Small Whites - Green-veined Whites, and Large Whites (although these tend to be a little later). Occasionally, the beautiful Orange Tip butterfly can be found as well, and the apparent northward expansion of this species has been the subject of much interest.
Orange Tip Large White
MAY/JUNE
This period sees the emergence of many of those species that passed the winter as caterpillars and have had to pupate before emerging as adults. This includes the Common Blue - Most of the "brown" and "orange" butterflies - Pearl-bordered and Small Pearl-bordered Fritillaries (late June) - Dark Green Fritillary, and the Small and Large Heaths (the former tending to appear first. Whilst both Large and Small Heath can be fairly common, the latter is usually the more abundant)
Dark Green Fritillary Small Heath
JULY/AUGUST
Weather permitting, these are good months for butterflies in Wester Ross, especially the Scotch Argus. Others that can be seen (aside from thoise we've already listed) are the - (Occasional) Grayling - Painted Lady - Speckled Woods - and Meadow Browns.
Scotch Argus Painted Lady Speckled Heath
And for SEPTEMBER onwards.....
If the weather is friendly, butterflies do not disappear at the end of summer. Species like Red Admiral and Peacock can occur quite late. A Peacock was sunning itself in Inverewe Gardens on 16 October 2007, along with a rather tatty Red Admiral. The latter species was also seen on 28 October 2007. Not bad for the NW Highlands!
Further reading on the subject? Look no further than this handy reference book on local wildlife, by Gairloch based Dr Barry Blake: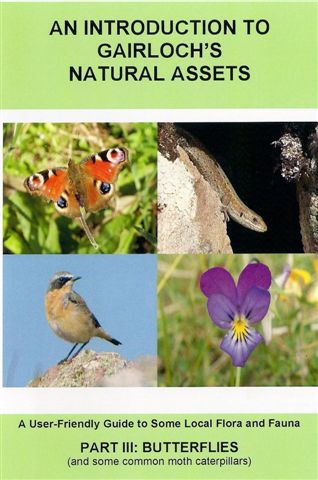 Widely available in local bookshops